MexCube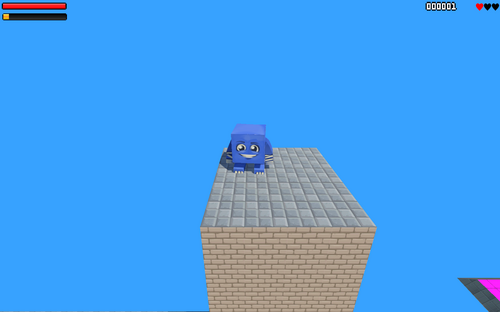 Hello Everybody!
This evening I put some basic ideas that I have scribbled down throughout the day into action!

Up first we have a new basic UI design which I plan to refine over the following weeks! The UI can be broken up into 3 basic sections
The health & power-up bar: Located at the top left of the screen. They show your remaining health & power-up time respectfully.
Coin/Score Counter: Located at the top right of the screen. Currently it essentially tracks the amount of coins you have picked up, but I plan to add other ways to gain points. As of now, I don't know what I want to do with points, but some of my ideas have included using it as some form as currency to buy "upgrades" to your players stats, or having it when the player gains a certain amount, they gain another life!
Life Counter: Finally the last addition to the game is the life counter. Essentially the amount of respawns you have available before being forced to redo the entire area (or until the last checkpoint, whichever is less)
Some other changes include a tonne of major bug fixes, and internal reorganization of files to help with future development!